LOCAL NEWS STORIES

From Brierley and the surrounding area

Willowgarth reunion for class of '68

January 2009

Local news stories index page

#Email your news and I'll write the story and take the photograph if required. Also you're welcome to place details of any celebration,

congratulations etc for appearance on the news page

completely FREE of charge
Article for the Brierley Village web site
by
John Nixon and Annice Marshall (nee Cooper)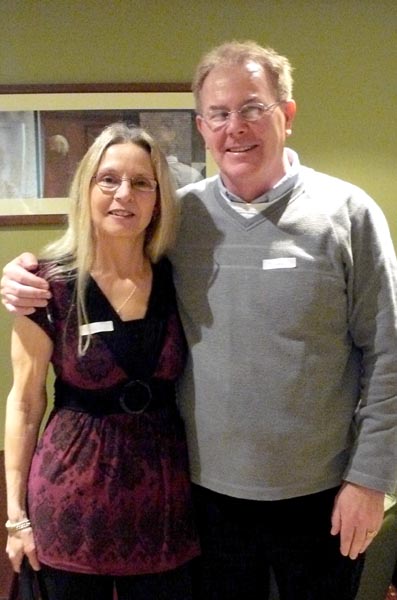 A re-union of former pupils of Willowgarth High School, who were in the fourth year in 1968, took place recently at the Burntwood Leisure Centre, Brierley. The re-union was organised by two of the former pupils, Annice Marshall (née Cooper) and John Nixon. The manager of Burntwood Club had kindly provided a conference room and bar/restaurant facilities for the event. Those who attended not only came from Grimethorpe and Brierley, the main catchment area for Willowgarth, but from the surrounding areas and places further afield such as York and East Anglia. According to Annice and John, feedback indicates that the event was thoroughly enjoyed by those who attended, although recognising friends after 41 years was difficult for some of us! However, we overcame this problem by providing name badges as people arrived. Listening to our favourite 60s music also helped with providing the right atmosphere, and it was great fun to hear all those stories from our time at school. The head teacher in our era was Mr. F. Tipping.
Below are some of the photos that mark this enjoyable occasion. A follow-up event is being planned for the summer so if anyone missed out there is a second opportunity to come. The organisers would also welcome contact from former teachers such that they can be invited to future gatherings.
Annice Marshall and John Nixon (see photograph above left)
can be contacted by e-mail at:
Note: Maiden names have been used for the ladies.
Annice Cooper and Ann Crawford

Steven Millthorpe, John Nixon and Les Foster

Dave Webster, John Bailey and Helen Durkin

Christine Harper and Janet Burton

4th row left to right: Peter Waring and Stuart McClure

3rd row left to right: Ann Sellers, David Atherton, Dave Webster, John Bailey, Mick Dunning, John Garrety, John Nixon, Steven Millthorpe, Steve Hall and Allan Leadbeater

2nd row left to right: Christine Harper, Margaret Soar, Linda Wright, Linda Milner, Audrey Binney and John Gavin.

Sitting left to right: Harold Heath, Albert Clark and Steven Cooper

Netball team 1968

Back left to right: Ann Clarkson, Annice Cooper, Mrs G White, Barbara Bates and Carol Cummings

Front left to right: Christine Harper, Audrey Binney, Sylvia Cavanagh and Margaret Smith
Local news stories index page

Missing from the group photograph are:

Annice Cooper, Les Foster, Susan Foster, Ann Crawford, Janet Burton, Ant Denman, Peter Wilkes, Janet Kearford, Helen Durkin and Martin Jeffries

Rugby team 1968

(Coach Ron Wilby)

Back row left to right:

? , ?, Les Foster, Peter Kirk, Steven Millthorpe, Barry Middlebrook, Paul Halford and Paul Cook.

Front row left to right:

Steven Cooper, John North, Steven Ennis, John Gavin, Tony Spittle, John Nixon and Mick Buckingham
B
A
I
P
I
P