45 Years on
It took just five minutes of David Nicoll and Gordon Steele's time, to catch up with the 45 years since they last saw each other as school chums at Brierley St Paul's school. The reunion took place in the Three Horse Shoes at Brierley recently after they saw each others emails that they had written to the Brierley Village web site. Gordon who left Brierley in 1961 and after serving 15 years in the army, moved to Reading where he lived for 22 years serving as a police constable before retiring and coming to live back in Yorkshire at Walton near Wakefield. He said "It was great to see David again, the years just rolled back! All forty odd of them. It just shows what an excellent idea the Brierley Village web site is, two old school friends meeting up after such a long time. A brilliant afternoon spent "chewing the fat", reminiscing, good beer &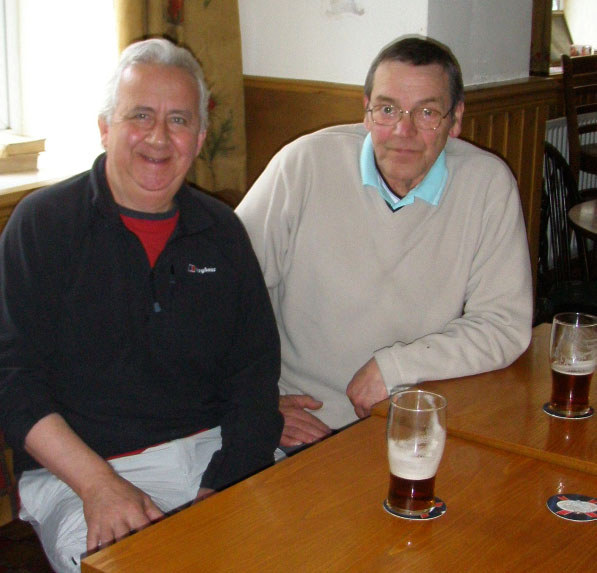 food. We are going to keep in touch with one another. I hope that others will use the web site and take the opportunity to contact their long lost friends". David who now lives in Pogmoor said "We have not seen each other for over 45 years; a fact which disappeared in five minutes. Nearly three hours later we parted company having covered all that had happened to us in those intervening years. Thanks to all the staff at the Three Horse Shoes for food and drinks and looking after us very well. Thanks also to the young gentleman, whose name I did not get, who took the photo but chiefly thank you to Gary for running the Brierley Village web site which makes these things possible.
Footnote
Gordon would also like to know if anyone remembers a relief head teacher at St Paul's by the name of Mr Moran. He was a dark haired chap who wore glasses, always smartly dressed, as was the order of head teacher. This would be in 1955 when Mr Balmforth the headmaster was in hospital.
Photograph shows David on the left and Gordon "chewing the fat", at the Three Horse Shoes
Willowgarth High School Class of 1968 Re-union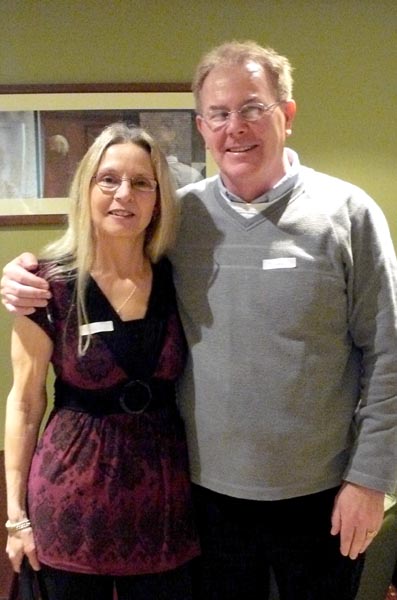 A second re-union of former Willowgarth High School pupils, who were in the fourth year in 1968, will take place at Grimethorpe Working Mens Club on the 4 July between 7 and 11pm. The first and very enjoyable re-union took place at Burntwood Court Hotel, Brierley, in December 2008. The organisers have advertised details among those they are in contact with, but would like to hear from any classmates or teachers who have not yet received an invitation. For further details, contact either Annice Cooper >Annice.cooper@hotmail.com< tel: 01977-643578) or John Nixon >john.nixon15@btinternet.com< tel: 01904-413797).
Photograph shows Annice and John at last years reunion
Other news from Brierley
Brierley Cubs FC
All three teams will play in a tournament at Dale Juniors FCs ground tomorrow.
Village club
There is a quiz night every Monday starting at 9pm. The winner last week was Volvo Phil. In a games night Fred Clarke beat Dale Woolands 21-12 at table bowls and Alan Beavers beat Sid 4-1 at snooker.
Three Horse Shoes
There is a quiz night at the Three Horse Shoes on a Thursday at 9.30pm and on Sunday at 8pm there is a music, conundrum and general knowledge quiz. The winners of the quiz on Sunday were Sharks Table with the Voddens claiming the second prize. The conundrum was won by Sam & Jo. The Head to Head was not won and will be for £90 next week. On Thursday The Dead Heads won the quiz while Six of the Best won the nearest too question. No name won the bottle of wine.
Women's Fellowship
The women's fellowship meets in the Methodist Church every Monday at 2pm. Last week they held their annual general meeting.
Women's Institute
The next meeting of the WI will be on Wednesday in the Methodist Church Hall. The ladies will meet once a month but times and dates vary.
Grange House
The winner of the social evening raffle on Monday was Ann Whitehead while Rita Sayers won on Thursday. Audrey Marsh won on Friday. The winners of the raffle on the Bakewell trip were Maureen Roberts who won a bottle of whisky; Audrey Marsh a bottle of sherry, June Hockey a writing set and Dot won a tin of biscuits. £55 was raised which will be used towards the next trip that will take place on 21 July to Southport.
Pool
In the Smithies Wednesday night pool league the village club team's game against the Travellers was cancelled. Next week they will play away to the Rose & Crown.
Pop In
The next meeting of the Pop in club that is held at the Methodist church Hall will be on Thursday from 9.15am till 11am. Everyone is invited to pop in for tea, coffee, biscuits and a chat. Proceeds will be towards Church funds.
Boys Brigade
Both the Junior Boys and Company Section meetings will take place in the Methodist Church Hall on Wednesday. The 7 to 11 year olds meeting will take place from 6.30pm till 8pm and the older boys will meet from 7pm till 9. Edwin and Elizabeth Hambleton lead the boys.
Methodist Church
The Sunday morning service at 10.15am will be a family & parade service that will be taken by Mrs E Peet. The evening service at 6 will be taken by the Reverend M Reasbeck. The welcoming steward will be Pearl while Jean Tomlinson will provide the flowers. There is a karate club on Monday at 7pm and the majorettes meet on Thursday and Friday at 4.30pm. There will be a bible study in the medical centre on Church Street on Thursday at 7pm. Forthcoming events include Saturday 27 June, Talent showcase for young musicians, volunteers required. On Saturday 11 July the Church will hold its annual Garden party that will be opened by Mr and Mrs Wayne Ashton from Shafton.