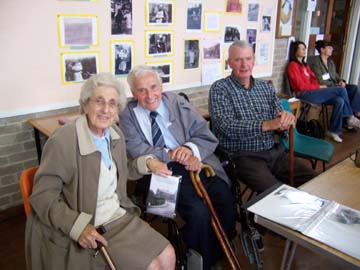 Freda Wilkinson, Tommy Winter and Herbert Vamplew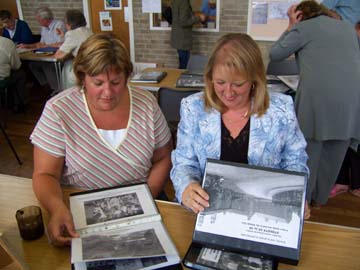 Julie Bell and Melanie Morrell

___________________________

Quiz: There will be a general knowledge quiz at the Three Horse Shoes on Thursday at 9.30pm and a music quiz on Sunday starting at 8pm. Last Thursday Mick Pointon won the quiz with 18 out of 20 and Terry Winter won the bottle of wine. Frank guessed the nearest too question.

Auction:

The Football Association have promised to donate a signed England shirt to the annual Harvest Festival charity auction which will take place in Brierley Social club on Saturday 7 October. If you would like to donate any item of auctionable value please contact Chris Sykes on 01226 711255 or Sandra at the club on 01226 716373. This yearís event is in aid of The Multiple Sclerosis society.

St Paulís Church: The Sunday Mass will be at 9.30am. Daily Mass will be taken on Monday at 10am and Friday at 3pm. Father Peter Needham will conduct the services. Marriage or Baptism enquires to be made to Father Peter Needham at St Lukeís Church Grimethorpe on Friday between 6.30 and 7.15pm. Baptism and Confirmation classes have started on a Wednesday at St Lukeís. Again contact Father Peter on 01226 717561 for further details. On Monday 16th October there will be an evening with Ian Clayton in St Paulís starting at 7.30pm and the churches Annual Harvest Festival will be held in Brierley Social club on Tuesday 17th October when a Miss Brierley and Grimethorpe competition will take place. Entry to the club is free but the competition entry is £2.

Line dancing:

There will be line dancing in the Methodist Church Hall on Monday and next Friday starting at 7pm. Everyone welcome.

Pop In:

The next pop in club will be held next Thursday in the Methodist Church Hall where everyone is invited to pop in for a cup of coffee or tea and biscuits. At this event there will also be having a CIG! Which stands for Church Improvement Group to look at all aspects of the church and to see what changes and practical things can be done. Everyone is welcome. The pop in club is held every two weeks.

Grange House:

At the Grange House social evening on Thursday Audrey Marsh won the raffle while Violet Gash won the prize on Monday. Nellie Cartwright won on Friday.

Spiritualist Church: Eddie Wilson from Wakefield will take the Sunday evening service at 6pm till 7.15pm. There will be healing in the Sanctuary next Friday from 6pm to 6.45pm followed by an open circle from 7pm till 8pm.Refreshments will be served afterwards.
Exhibition 2006 a great success

The 2006 Baipip exhibition which was held in the Methodist Church Hall last Thursday the 14th was a great success with well over 300 people visiting the exhibition from all over the country. It was nice to see five of Brierley's longest serving residents Freda Wilkinson, Herbert Vamplew, Nigel Crossland, Tommy Winter and Alec Dyson all attending. It was also a pleasure to meet David Nichol and Jillian Gamewell (nee Wilkinson) who write to the web site on a regular basis. The volunteers Graham Hotchins, Kaeran Vaines, Linda Gibson, Julie Sanderson, Alison Keating, Hazel Devonport and Betty Ogley all played a big part in collecting 80 more names and dates to the photographs. Four more visitors it was pleasing to see were brothers Gordon, John and Ron Steele and Annie Turner. Gordon, John and Annie all write their memories of living in Brierley for this web site. Richard Watson was on hand to answer history questions about Brierley and Lynn White from Cudworth displayed her work on Sidlows in the wood. Barbara Smith (nee Nixon) visited with copies of her father Alan's book "Mothers Apple Pie". David Horsefall a local disabled artist raised over £100 for the Stroke Society while a painting he donated to Baipip raises £112.50 in the raffle. A further £36.60 was raised by way of donations. The money raised will be used for further collecting, copying and archiving more photographs. Lynette Horne from Haldane Close won the painting with raffle number yellow 266. The other winning numbers were; Green 148, Blue 59, Yellow 43, Blue 68, Green 136, Green 16, Green 171, Yellow 152 and Green 269. All the prizes except for Green 171 and Green 136 have been claimed. The other winners were; Ron Steele, Doctor Selim, Nellie Cartwright, Chris Sykes, Sharon Lappage, Alex Vodden and Toni Day. Thanks to the Hillside Tara Management Committee, Dave Horsefall, Direct Office Supplies Stairfoot and a local business man who wants to remain anonymous. To see this story with more photographs click here.

_________________

Labour Party:

The next meeting of the local Labour party will be in the Social club on Sunday 1 October at 10.30am.

Childrenís Centre

: Funding is still available for free sessions for two year olds at the Milefield Childrenís centre, which caters for children from nought to five. The centre welcomes children from the Brierley, Grimethorpe and Shafton areas. For further details contact Helen Cook on 01226 715127.

Boys Brigade

: Both the Junior Boys and Company Section will now meet on a Wednesday night in the Methodist Church Hall. The 7 to 11 year olds meeting will take place from 6.30pm till 8pm and the older boys will meet from 7pm till 9. Edwin and Elizabeth Hambleton lead the boys.

Community Workshop

: A community workshop for woodworking crafts is available in Brierley on Monday, Tuesday, Thursday and Friday from 10am till 12 and from 2 till 4. The workshop is available free for anyone to use. For further information contact John Nyland at the Brierley Grimethorpe Shafton Community Partnership on 01226 718282.

Social club

: The winner of last weeks quiz, which is held every Monday night at 8.30 was Volvo Phil.

Dinner outing

: A party of 36 tenants and guests enjoyed a dinner at the Burntwood Court Hotel last Wednesday. Entertainment was also provided. The event was organised by the warden Linda Milburn who has also arranged a trip to Skipton next Wednesday leaving at 11am. The party will call at the Wetherby Waiter for a fish and chip supper on their way home.

Ladies Recreation

: There will be ladies recreation evening on Tuesday in the Methodist Church Hall at 7.30pm.

Woodcarving

: There are still places available for the wood carving course in Brierley, which runs on a Tuesday evening from 7pm till 9pm. For further details contact John Nyland at the Brierley Grimethorpe Shafton Community Partnership on 01226 718282

Womenís Fellowship: The speaker at last weeks Womenís Fellowship was Jean. The ladies meet every Monday at 2pm in the Methodist Church Hall.

Brierley Cubs FC: In the Millennium Sunday League last week, the under 10s drew 1-1 away to Ardsley with Danny James scoring for Brierley. The lads will play at home on Sunday against Athersly kicking of at 10.30am in the welfare park. The under 7s played a brilliant game finishing 3-2 winners away to Barugh Green with Morgan Armit scoring a hat trick. Lewis Lettin-Hall was man of the match. The under 7s donít have a game this weekend. The under 9s entertained Dearne and District at home and were the better team all round winning 4-1. The goal scorers were Brendan Herod, Ryan Smith and McCauley Haigh who scored twice and who was also man of the match. On Sunday they will meet Dearne Dragons away meeting at the welfare park at 9.45am.

Back to LOCAL NEWS STORIES index page