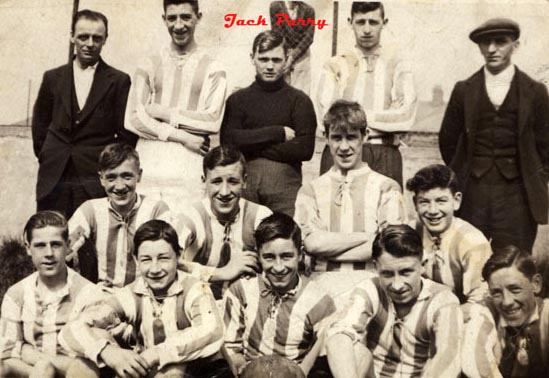 Photograph number Sport 1
Date unknown
Grimethorpe FC
This photograph has been supplied by Les Parry from Barnsley Road who would like further information. His dad (Jack Parry) is on the picture but that is all that Les knows about it. The team is from Grimethorpe.
Thanks to Don Mann who has named the
following:
Back row l to r: Percy Harpham snr, Harry White, Jack Parry, Fred Gray, ?.
Middle row l to r: Jud Wilkinson, Bill White, Jimmy Crawford and ?.
Bottom l to r: Percy Harpham jnr, Harry Gray who played for Barnsley after World War 2, Harry Sargeson, Harry Hawcroft and Arthur Millthorpe.
Thanks to Ronnie Harpham for naming the players named in blue