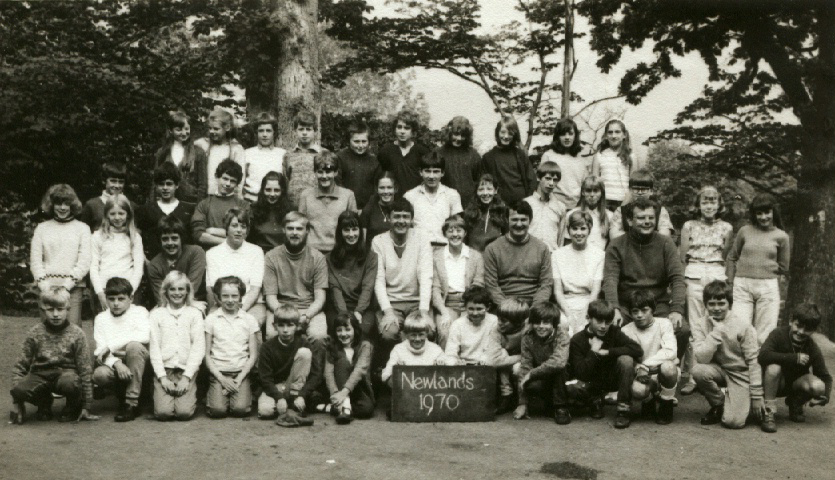 Photograph number Schools 26
1970
Milefield Middle School trip to Newlands
Known faces: Back row 3rd left is Christopher Foster, 4th left Frank Wright, 5th left Brendan O'Callaghan, 6th Alan Richardson, 8th Julie Armitage. 2nd row down and 2nd left is Ian Gibson, 4th left Diane Holt, 5th left Alan Bickerton, 6th left Sharon Wilby, 7th left Chris Gibson, 9th left Stuart Boyce, 11th left John Nippers and on the end is Christine Davies. 3rd row down 1st left is Christine (Cheesy) Chesham, 2nd left Christine Lomas, 3rd left Glenn Guest, 5th left Bill Lingard (teacher), 9th left Mr Parkes, and on the end sat down is Mr Moran (Bugsy) teacher. Sitting down 1st left is ? Wright, 3rd left Julie Elsworth? (my first love) there you all know now, 4th left is Lesley Wright, 5th left Nigel Vodden, 8th left Glen Phillips and 9th left John Moorhouse,
Photograph at the request of Lesley Douthwaite (nee Wright)
Channel Islands Jersey who is on the front row fourth from the left
I believe that 2nd row number 4th left is Diane Holt and 6th is myself Sharon Wilby now Richardson.