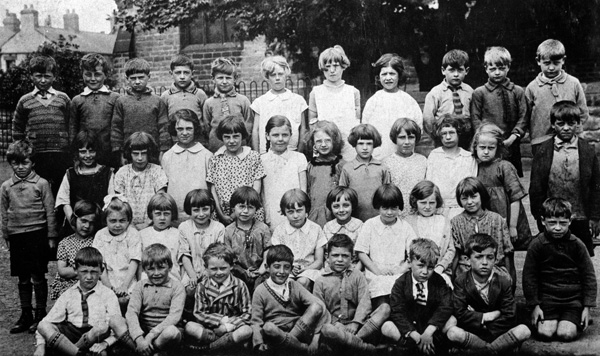 Photograph No: Schools 18
Circa 1930
St Paulís C of E School
The headmaster at this time would have been Mr William Sharp (Headmaster from 1903 Ė 1931). Dennis Turner now living in Scawsby, Doncaster (2000) provided this photograph and surnames. Dennis can be seen bottom row fourth left with Harry Ward at the end of the row on the right. Looking at the photograph Charlie Pickering is to the right of Dennis. Although Dennis provided the surnames, Christian names were only initialled. However, I have searched the school records and hopefully I have put the correct Christian names to the initials. Can you put faces to names?
Other names.
Eveline Dyson; Nellie Vamplew; Harold Booker; Robert Buck; James Schofield; Betty Deighton; Sidney Buck; George Winham; Mary Burton; Ronald Roberts; May Vamplew; Phyllis Kershaw; Thomas Winter; Nora Kershaw, Ida Land; Nancy Little; Audrey Beaumont; Stanley Baker; Arthur Greenwood; Ruth Vamplew; Alfred Maynard Hamilton; Sylvia Hall; Marjorie Kay; George William Satchwell;
There are also 3 possible names for Lilley, which are Margaret, Frances and Dorothy. Although Dennis dates the photograph to 1929, I think it may actually be 1930 as George William Satchwell is the only name to fit G Satchwell and he wasn't admitted to the school while 1930 age 9.
Photograph at the request of Joan Rhodes (nee Vamplew), Cleckheaton