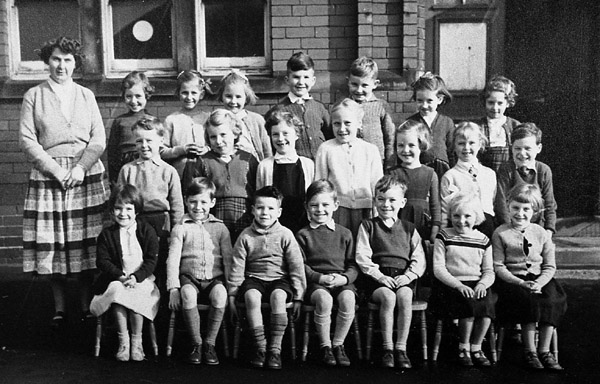 Photograph number Schools 138
Circa 1958/9?
St Paul's Church of England School Class 2 Miss Waller
From left to right back row: Miss Waller, Sherry Peacock, Judith Scott, Pat Hardwick, Alan Thorpe, Peter Goodhall, Margaret Cross and Julie Winham.
Middle row l to r: Christopher Ryalls, ?, ?, Christine King, Carol Woodward?, and ?.
Front row second left is Robert Evans
Thanks to Denise Stone (nee Spaxman) for providing the information.
From Christine Cheetham (nee Evans) back row to right of Alan Thorpe is Peter Goodhall. Front row second left is my brother Robert Evans.
Thank you to Veronica Goodwin (nee (Maralynn) Holden) Dubai and France for correcting Christine King,
Can you help with further names? If so please email Gary Email this website