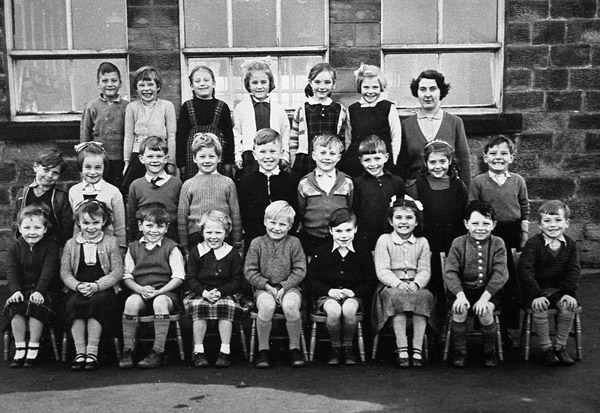 Photograph number Schools 137
Circa 1956/7?
St Paul's Church of England School Class 2 Miss Waller
Thanks to Denise Stone (nee Spaxman) for providing the following information.
From left to right back row: John Roberts, Jenny Swift, Christine Bates, ?, Joy Midgley, ?, Miss Waller. Middle row l to r: Geoff Wilkinson, Maureen Hardwick, ?, ?, John Thorpe, Ken Price, Mike Round, Betty Evans and ? Front row l to r: Diane McLean, Sandra Kerly, ?, Linda Spaxman, Greg Lawton, ?, John Grimes. Gillian Firth Raymond Oates and ?.
Thanks to Jillian Gamewell (nee Wilkinson) who has identified her brother Geoff Wilkinson first left on the middle row and also Joy Midgley fifth from the left on the back row and Greg Lawton middle front.
From Betty Evans: Back row I think they called him John Roberts, middle row John Thorpe and I think Ken Price and maybe Mike Round then me Betty Evans.