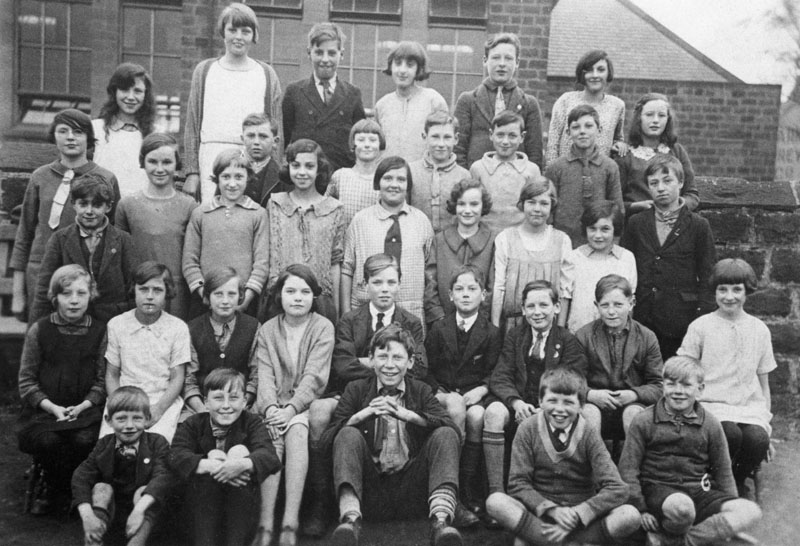 Photograph number Schools 12
1926
St Paulís C of E School
Photograph also on the memories of St Pauls school under class photographs C6
I have spent some hours researching this photograph after receiving it a few years ago with just the initials and surnames of the pupils. After researching the old Brierley school records I have come up with the following Christian names. The names in green are my research. Their date of births correspond to the names already known in the photograph and that are in the old school records. It is for this reason that although the names cannot be taken for fact, I am confident that most of the names are true.
The young girl with the long hair second row from the top on the left is Winifred Walker now Mrs Goulding and living on Grange Road (January 2009). Other known faces are: Gladys Dewhurst, Rex Gladwin, Audrey Watson, B Sharpe (There is no surname Sharpe in the school records), Howard Wilkinson, Joyce Crossland, S Crossland (This should read Bernard Francis Crossland and he is situated 3rd row down far left of the photograph), Walter Wilkinson, A Little (probably Cyril Little born 10-3-1918), Jessie Steele, Mabel Kerr, Norah Turner, R Vamplew (probably Joseph Vamplew born 12-12-1917), Henry Mathers, Raymond Anderson, Thomas (Tommy) Wroe (I think big chap sat on the floor in the middle), D Wroe (Found Henry or Harry Wroe born 14-11-19), Vera Rowley, Fred Dewhurst and R Wroe (Found Henry or Harry Wroe born 14-11-19). Flo Mathers is the girl third row from the top and fourth from the right.
Photograph at the request of David Nicoll who believes his mum Mabel Kerr is on the photograph.