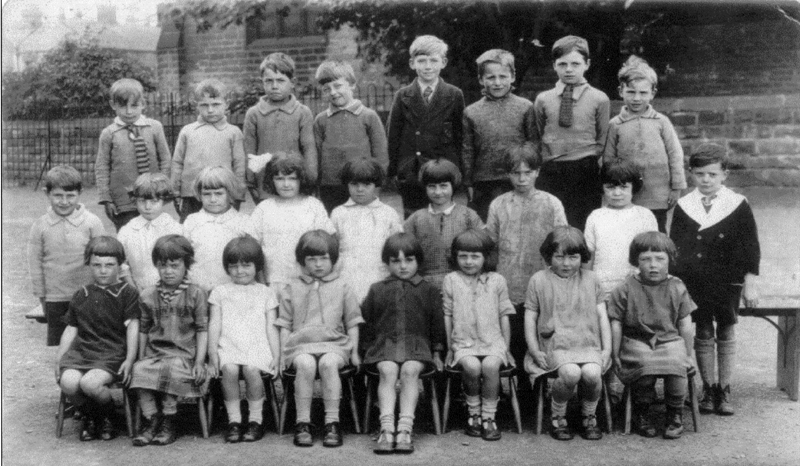 Photograph number Schools 1
Late 1920s or early 1930s
Brierley St Paul's school
This photographs was provided by David Atchison from Grimethorpe with the following note: The note was dated January 2003.
"Thomas Kaye is on the extreme left in the middle row. He will be 80 in July 2003 and for the last 50 years has lived in the Far East and now New Zealand. This photograph would have been taken in the late 1920s early 30s. Thomas was the youngest son of Tommy and Alice Kaye who lived for many years at 12 Park Road Brierley".
Further information from Gary (web master): The school records show that Thomas Kaye was born on the 7th July 1923 and was admitted to the school on 8th April 1929. I am not sure of any names of other pupils on the photograph but the school records show that the following pupils were admitted on the same day as Thomas: Olive Painter, Ernest Fenn, Geoffrey Massey, Kenneth Jackson, Grace Norburn, Adeline Crunkhorn, Gerald Dyson, Eunice Allen. Other pupils admitted up to June the same year and were born either in 1923 or 24 are, Mary Pickard, Edith Parkinson, Ralph Thorpe, Sylvia Parkinson, Charles W Garner, Christine Swale, Frank Jenkins, Sylvia Wilce and Phyllis Drinkwater.It is possible that these pupils are also on the photograph.
Can you put any names to the faces? If so please email Gary Email this website
An email from Ian Smallman from Ward Green has confirmed my theory about the other pupils on the photograph as his mother Adeline Crunkhorn is on the front row 5th from the left in the dark dress.
The school records also show that Thomas Kaye left the district on 9th September 1932.This is confusing because David note states that his parents lived at 12 Park Road for many years and Thomas would not have been old enough to leave the district on his own