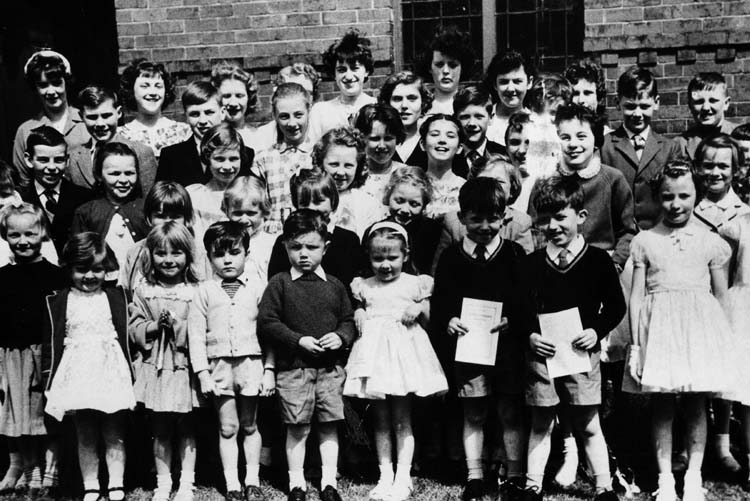 Photograph number Methodist Church 50
Circa early1960s
Whitsuntide. Sunday school
Known faces: 1-Jean Draper, 2-Mick Vodden, 3-Kathleen Bird, 4-Jean Horsefall, 5-Irene Sykes, 7-Janet Baxendale, 8-Doreen Hobson, 9-Cath Perry, 10-John Draper, 11-Billy Burdett, 12-John Beaumont, 13-Sandra Kerly, 14-Roy Sykes, 15-Ann Vodden, 16-Margaret Beaumont, 17-Linda Spaxman, 18-Denise Spaxman, 19-Diane McLean, 20-Gillian Firth, 21-Tony Horsefall, 22-Maureen Hardwick, 24-Carol Ann Keith, 25-and 26-Gary and Gerard Firth, 27-Lyn Ryalls, 28-Ian Brazier?, 29-David Greenwell, 32-Doreen Guy, 33-Sheila Haigh and 35-Joy Midgley.
To view the photograph with the numbers click here
Thanks to John Draper for most of these names.
Thank you to Michael Keith who has written in from Australia and has recognised his sister Carol Ann Keith as number 24.
Photograph at the request of Betty Barber (nee Guy) who is now living in Leeds whose sister Doreen is on the photograph
Can you help with more names? If so please email Gary Email this website