LETTERS to Father Christmas often get blown up the chimney or pushed into a Post Office box.
But with the increase in central heating, the traditional chimney is scarcer. How Santa Clause gets into houses without chimneys, of course, raises certain philosophical questions too highbrow to discuss here, but in Brierley at least the postal problems have been overcome.
Mrs June Hockey and her staff at the village Post Office place a special post box in their shop every year just before Christmas for children to send their private mail to Father Christmas Land.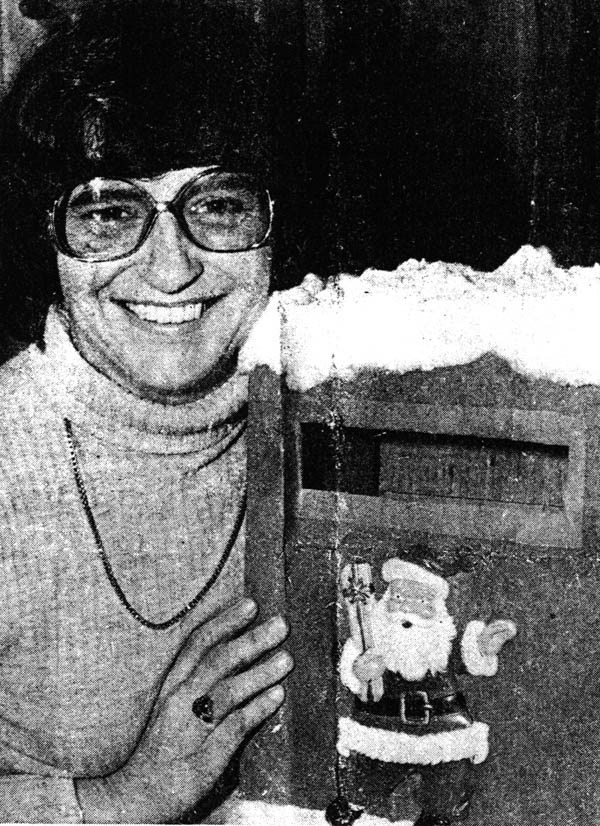 June Hockey circa 1980. Image reproduced from an old news cutting.
Special letter
Since the idea came into effect three years ago the service has become something of an institution in the village and children make a special effort to get their festive requests off in time for the presents to be prepared by Santa Claus and his helpers.
In fact Mrs Hockey produces a letter on Santa Claus's behalf and sends one to every child who puts a letter in the special box.
Each one is personally addressed, and according to Mrs Belle Dyson, who works at the Post Office, illustrates Mrs Hockey's "bubbling" attitude to the children in the area.
"It really is nice when the children come into the shop and post their letters," said Mrs Dyson. "Last year we had special visits from Brierley School and it was a pleasure to see their faces."
Making sure
At Brierley Church of England School the five-year-olds in Mrs Ann Whitelam's class began thinking about writing their letters in November and were all looking forward to making the visit to the Post Office to make sure their requests got to the North Pole in time.
All the children had agreed to ask for only thing in their letter because to ask for more than one would be greedy. They did point out that they were hoping really for something extra, however. The presents being requested these days also seem to reflect the changing times. Graham Elvidge wanted a portable television set to watch his favourite cartoons, as did Craig Yoxall, a keen addict of "superman". More traditionally Hayley Wright and Sharon Hartshorne wanted beauty sets, though they did not seem to need them, and Julie Cooper intended to ask for a "Wonder woman" outfit.
Their priority
As for the other boys in the class, Darren Brown wanted a bicycle, while racing cars had top priority with Stephen Cooke, Timothy Walls, Robert Johnston and Robert Chaplin. Terri-Lea Mason wanted a racing bicycle while Monica Morritt said she hoped to find a rocking horse at the foot of her bed on December 25. It certainly looks as if Brierley Post Office will be busy in the build-up to Christmas, handling 150 to 200 letters schools children and pre-school inhabitants of the village send
Old newspaper cuttings index page
Also see Local news stories index