Photograph above shows left to right: Duane, Dean and Dale seen here while living in Brierley in the 1960s.
Photograph right shows left to right: Duane, Dale and Dean Taylor outside the Three Horse during their return to look round the village of their childhood.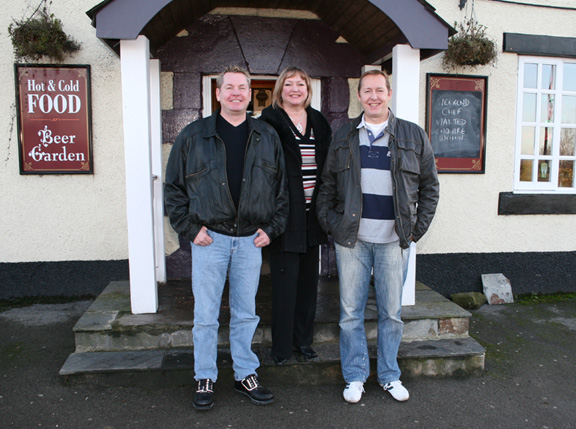 It was a real pleasure popping into the Three Horse Shoes on Saturday afternoon to meet up with siblings Dean, Duane and Dale Taylor who lived at Clifton House in the 1960s and 70s.
All three attended St Paul's, Milefield and Willowgarth schools before their parents moved out of the village.
Dale and Dean with his wife and baby were there to greet their brother Duane who was visiting from Canada where he has lived since 1990 although he does make regular trips back home where he says he misses English food. Dean is now living in Lofthouse while Dale lives in Garforth near Leeds. It was by chance that Duane found the Brierley Village web site a few weeks ago and now all the family are pleased that they can keep in touch with the village. If you would like to get in touch with the family, Duane's contact details can be found at the St Pauls web site.
Local news stories index page