A storage garage at Brierley Hall works depot that housed two transit vans, lawnmowers a tractor and barrels of fuel, went up in flames on Tuesday evening. Fire-fighters from both Royston and West Yorkshire were called to the blaze that is thou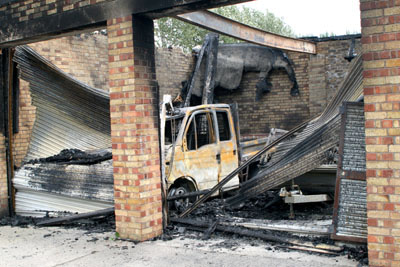 ght to have been started deliberately.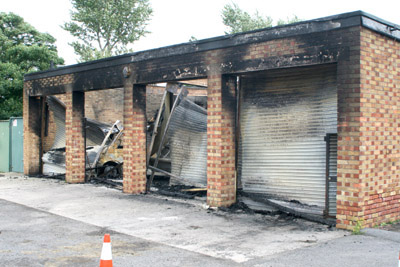 A workman said that a few days earlier, keys for the storage garage and the vehicles had been stolen but the locks had been changed since and he thought the key thieves might have come back to steal the machinery but not being able to gain access, they may have started the fire deliberately.
Small explosions were heard throughout Brierley as the fuel containers were hit by the heat. Flames were up to 20 feet high. Royston Fire-station manager Jon Parkes said that there was so much damage that the building might have to be pulled down.
Photographs show the aftermath of the storage depot at Brierley Hall after fire tore through it on Tuesday night.