Bungalow scheme to go ahead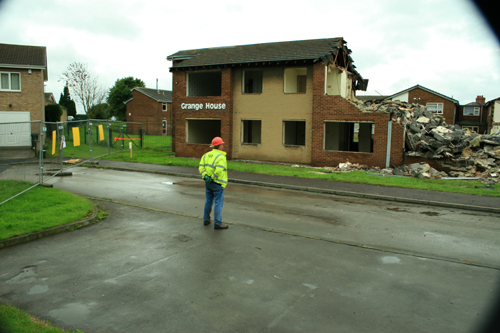 Plans to demolish the remainder of Grange House and build six pairs of bungalows to allow the present residents to move into have been approved by Barnsley council. Once the residents have moved in, the rest of the outdated building will be demolished to make way for further bungalows to be build on the site when the council has more money. Each bungalow will have a reasonably sized garden at the back and parking space for one vehicle. The demolition is part of the council's plans to replace old sheltered accommodation that doesn't meet the Decent Homes Standard with Grange House falling into that category.
One letter of objection was received after consultations with the public and the residents of the home. The letter pointed out concerns about car parking spaces that may affect residents in nearby houses, but the planning officers report said that the accommodation would be for elderly residents and was very unlikely to generate more traffic than the existing home.
Gary Hotchins from Baipip commented " It is always pleasing to know that council are at last spending some money in Brierley and I am sure the new bungalows will be very welcome, but what worries me is the fact that most of the residents in Grange House went in there in the first place from bungalows because they could not maintain them or look after themselves. To put them back into a bungalow again will, I am sure, be more stressing for them. I hope the council have met with the Social Services to help the moving, settling in and living in a bungalow again stress free for all the residents.
Photograph by Baipip shows Grange House during its part demolition in 2008
St Paul's church
The mass tomorrow morning (Saturday) will be at 10am and vigil mass will be at 6.30pm There will be a mass on Sunday at 9.30am and on Monday morning at 10am. Confessions will take place on Tuesday at 5.30pm followed by mass at 6.30pm further followed by a Shrove Tuesday party at the Three Horse Shoes that will include a hot buffet and pancakes at 7.30pm. On Wednesday there will be a mass at 10am and at 7pm on Thursday the Lent house group will meet in Brierley.
Brierley Cubs FC
It was a double hat trick for Mattie Hardman when the under twelve's beat Brayton FC from Selby in the Charles Rice League cup 13-0. Callum McGinn also scored a hat trick with Kai Haddock adding a further two goals and also being voted the managers man of the match. Michael Shaw and Tyler Becket completed the scoring for Brierley with one goal each. Next Sunday they will play Normanton FC away kicking off at 10.30am.
Councillors Surgery
Ward Councillor Dorothy Higginbottom will hold a council surgery at Grange House on Tuesday from 5pm till 6.
Methodist Church
The children's Jam club will be at 10.30am on Sunday morning and the service at 10.15am will will be taken by the Reverend Barrie Lowery. The welcoming steward will be Jean Rowley and Charlie Hall will provide this weeks flowers. There is a karate club on Wednesday and Thursday at 7pm. A Bible study will take place in the medical centre on Church Drive on Thursday at 7pm. On Wednesday 24 February the Reverend Dereck Hinchliffe will read further extracts from his book followed by a pie and pea supper. Tickets are £5 and are for the building fund. Bookings are now being taken for the Church Family fellowship weekend at Cloughton on 12 March.
Village club
There is a quiz night every Monday starting at 9pm.The winner last week was Philip Illingworth.
Three Horse Shoes
There is a quiz night at the Three Horse Shoes on a Thursday at 9.30pm and on Sunday at 8pm there is a music, conundrum and general knowledge quiz. On Sunday Shy T won the quiz while Les Parry came second, Shy T also won the conundrum. The head to head was not won and will be for £110 next week. On Thursday The Dead Heads won the quiz and the nearest too question. G Fab won the bottle of wine.
Local news stories index page
Sports Activity
The Play Active van will be at Brierley Park on Thursday from 10am -12 noon. Free play sessions are for children aged eight to thirteen. Children aged six to eight are welcome under parent supervision. Contact Ben on 07775 001971 or 01227 736644.
St Paul's school
The school was awarded a £100 voucher from the Yorkshire Purchasing Organisation, where they order their office supplies from, after their order tipped the company sales over £100 million pounds. The pupils performed songs from their cd, Pop Connections in St Paul's church last night.
Grange House
At Monday night's social evening Rita Sayers won the raffle while Ray Fewster won on Thursday. Doreen Smith claimed Friday's prize.
Concert
The New Mill Male Voice Choir will perform at Cudworth Methodist Church on Saturday 6 March. Tickets are £8 and the proceeds will go towards Brierley Methodist Church new building fund.
Spiritualist Church
There will be Healing in the Sanctuary by trained lady volunteers tonight from 6pm till 6.45 followed at 7 with an Open Circle. A demonstration of mediumship by Janet Rushton will take place on Sunday at 6pm. Rest of the demonstrators for February are Elaine Connolly and Susan Ashton. On Tuesday 23 March there will be a charity demonstration of mediumship special with Diana Birks and Mary McCabe. Tickets are £3 and the proceeds will be for the PDSA.
Slimming World
There is a meeting every Monday at 6.30pm in the Methodist Church Hall. Last week Natalie Armitage lost the most weight with a total of 5.5 pounds. The members lost a total of 45 pounds all together. For further details telephone Michelle on 07887 906493.
Line Dancing
Line dancing will take place in the Methodist Church hall on Friday at 6.30pm till 9.
Pop In
The next meeting of the Pop in club that is held at the Methodist church Hall will be on Thursday from 9.15am till 11am. Everyone is invited to pop in for tea, coffee, biscuits and a chat. Proceeds will be towards Church funds.