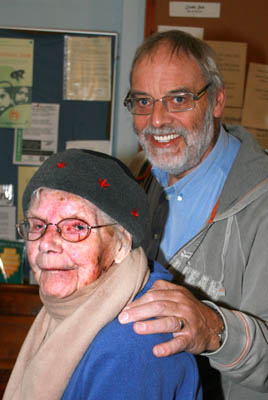 Birthday celebration
Friends and family of Eva Draper will meet in Grange House on Wednesday afternoon to celebrate her 100th birthday. In 1934 Eva and her late husband Arthur were founder members of the Methodist Church at Brierley where she is now the oldest member of the congregation. She is also the longest serving member of the Women's Fellowship. She was born at Hilda Terrace Carlton and moved to Brierley in 1933 after her marriage to Arthur which was the first ever wedding to take place at Carlton Methodist Church. Eva's four children John, Margaret, Mary and Jean will attend the celebrations along with the Mayor of Barnsley Mr Ken Sanderson. (Photograph shows Eva with her son John at the recent Methodist Church Autumn Fayre)
Methodist Church
The Sunday service at 10.15am will be a Family and Parade service and will be taken by Mr D Sisson. The welcoming steward will be Pearl. Margaret and Richard will provide the flowers. The Rev D Hinchliffe will lead a Sacrament service in the evening at 6pm. There will be a karate class on Monday at 7pm and on Thursday and Friday the majorettes will meet at 4.30pm. There will be a church dinner tomorrow at 6.30pm.
Women's Institute (WI)
There will be a meeting on Wednesday at 2pm in the Methodist Church to see if there is enough interest to form a WI in Brierley. If successful the WI will be involved in listening to entertaining speakers, watch demonstrations on interesting subjects including arts and craft, making new friends and also be involved with social activities including outings and lunches. Meetings will be held monthly and ladies young and old are welcome to attend.
Pop In
The next meeting of the Pop in club that is held at the Methodist church Hall will be on Thursday 12 February from 9.15am till 11am. Everyone is invited to pop in for tea, coffee, biscuits and a chat. Proceeds will be towards Church funds.
Women's Fellowship
The Women's Fellowship meets at the Methodist Church on Mondays at 2pm. The speaker last week was Jean.
Grange House
At the Monday social evening Audrey Marsh won the raffle while Rita Ford won on Thursday. Elsie Brazier claimed Friday's prize.
Three Horse Shoes
There is a quiz night at the Three Horse Shoes on a Thursday at 9.30pm and on Sunday at 8pm there is a music, conundrum and general knowledge quiz. On Sunday Ian and Company won the quiz and the conundrum. The head to head for £30 was won by Team Corner and will start again next week at £10. On Thursday Sue, M and Harry won the quiz while No Ideas won a bottle of wine. The nearest too question was won by Team Top.
Pool
In the Smithies Wednesday night pool league, the village club lost 6-1 away to the Singing Man from Shafton with Andrew Darbyshire winning for Brierley. Next week the team will play at away to the Mount Osborne from Barnsley.
Boys Brigade
Both the Junior Boys and Company Section meetings will take place in the Methodist Church Hall on Wednesday. The 7 to 11 year olds meeting will take place from 6.30pm till 8pm and the older boys will meet from 7pm till 9. Edwin and Elizabeth Hambleton lead the boys.
Brierley Cubs FC
In the Sunday Millennium league the under 11s played away to Wheatley Warriors and won 1-0. The goal scorer for Brierley was Michael Shaw while Alfie Robson was man of the match. Next week they will play on neutral ground at Worsbrough where they will meet Darfield Dynamos' in the semi-final of the league cup kicking of at 11am.
Spiritualist Church
Tonight at 6 there will be Healing in the Sanctuary followed at 7 with an Open circle. On Sunday there will be a demonstration of mediumship at 6pm that will be taken by Anne Sharpe from Pontefract. Other demonstrators for February are Jackie Jennings from South Kirkby, Margaret Pearson from Bolton on Dearne, Norrie Milnes from Rotherham and Rae Hurley from Wakefield. Refreshments will be served after each service. The Annual General Meeting will take place on Sunday 1 February at 1pm.
Village club
There is a quiz night every Monday starting at 9pm.