Bollingbroke House
Staff at Bollingbroke House (formerly Coppins) provided entertainment and a Halloween tea for residents, family and friends on Friday (see photograph below)..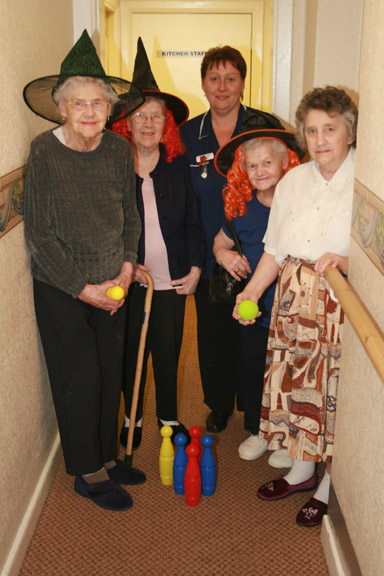 Residents and staff at Bollingbroke House enjoyed a Halloween tea followed by games
Left to right Lorna Carr, Elsie Jones, Senior care Catherine Atkinson, Amy Taylor and Rosina Pearson enjoying a game of skittles.
Methodist Church
Mrs C Halliday will lead a family and parade service on Sunday morning at 10.15. The welcoming steward will be Norma. The evening service at 6pm will be taken by Mr W Marsden. Pam and Ray will provide this weeks flowers. The majorettes will also meet on Thursday.
Town Council
The annual Firework spectacular is on Wednesday in the Dell. Entry is free and starts at 7pm.
Women's Fellowship
The Fellowship meeting takes place on a Monday at 2pm at the Methodist Church.
Bric a Brac
There ill be a Bric a Brac sale in the Three Horse Shoes car park on Sunday 9 November from 7am. The cost for a pitch is £5 and all monies raised will go to charity
Pop In
The next Pop in morning at the Methodist church hall will take place on Thursday from 9.15am till 11.15. Everyone is invited to pop in for tea, coffee, biscuits and a chat. Proceeds are towards church funds
Village club
There is a quiz night every Monday starting at 9pm. The winner last week was Volvo Phil.
Three Horse Shoes
There is a quiz night at the Three Horse Shoes on a Thursday at 9.30pm and on Sunday at 8pm there is a music, conundrum and general knowledge quiz. Les Mick and Terry won the quiz on Sunday while Les and Mick came second. Jo won the conundrum. The Head to head was not won and next week it will be for £40. On Thursday Gazza and Mick won the quiz while Two Tees won the nearest too question. Pat and Jim won a bottle of wine. On the Monday 10 November there will be an Ann Summers Party starting at 8pm.
Baipip
A framed and autographed photograph of all the cast of Coronation Street will be one of the items for auction at the Social evening with mini auction and a How well do you know Brierley quiz on Monday in the Three Horse Shoes starting at 8pm.The event will also include a disco, prize for best dressed witch and warlock, spin the wheel and a raffle with the first prize of a bottle of House of Commons whisky signed by the Prime Minister Gordon Brown and donated by Jeff Ennis MP.
Spiritualist Church
Tonight at 6pm there will be Healing in the Sanctuary followed at 7pm with an Open circle. The Sunday service of mediumship at 6pm will be taken by Gordon Cooke from Ilkley. Next Friday after healing in the Sanctuary, David Rawlings from Dinnington will lead a service of mediumship. Refreshments will be served after each service. Other mediums for November will be Morag Bence from Leeds, Gary Robinson from Normanton, Adrian Clarke from Wakefield and Peter Politano from Barnsley. There will be a Christmas buffet and demonstration of mediumship with Julie Winfield on Wednesday 3 December at 7pm. Tickets are £4 and are available from the church.
Boys Brigade
Both the Junior Boys and Company Section meetings take place on Wednesday night in the Methodist Church Hall. The 7 to 11 year olds meeting will take place from 6.30pm till 8pm and the older boys will meet from 7pm till 9. Edwin and Elizabeth Hambleton lead the boys.