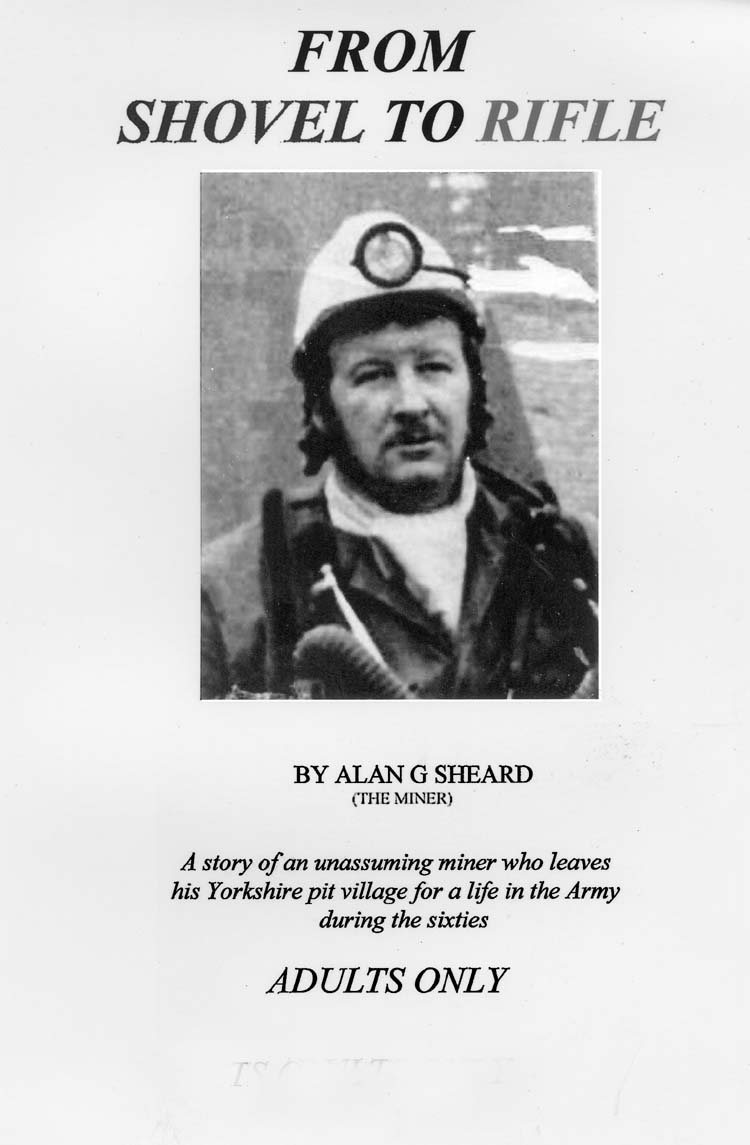 local author donates a copy of his latest book to charity auction
Local author Alan Geoffrey Sheard (The Miner) has donated a signed copy of his latest book "From shovel to Rifle" to the annual Harvest Festival charity auction which will take place in Brierley Social club on Saturday 7 October starting at 8pm. Alan is well known locally for his writings and poems about the mining industry. He has recently appeared on Radio Sheffield and YMCA radio Barnsley. If you would like to donate any item of auctionable value please contact Chris Sykes on 01226 711255 or Sandra at the club on 01226 716373 or email Gary. This year's event is in aid of The Multiple Sclerosis society.
Last year, Chris Sykes who organises the auctions was presented with an achievement award from local MP Jeff Ennis for smashing through the £10,000 barrier raised for local charities.
WELL DONE CHRIS!
Boys Brigade

: Both the Junior Boys and Company Section will now meet on a Wednesday night in the Methodist Church Hall. The juniors meeting will take place from 6.30pm till 8pm when the Company Section will take over till 9pm. The boys are led by Edwin and Elizabeth Hambleton

Social club

: The winner of last weeks quiz, which is held every Monday night at 8.30, was John Ruane.

Line dancing

: There will be line dancing in the Methodist Church Hall tonight (Friday) and on Monday starting at 7pm. Everyone welcome.

Grange House

: At the Grange House social evening on Thursday Audrey Marsh won the raffle while Dorothy Armitage won the prize on Friday. Ann Goose won on Monday

St Paul's Church: The Sunday Mass will be at 9.30am. Daily Mass will be taken on Monday at 10am and Friday at 3pm. Father Peter Needham will conduct the services. Marriage or Baptism enquires to be made to Father Peter Needham at St Luke's Church Grimethorpe on Friday between 6.30 and 7.15pm. Baptism and Confirmation classes will begin on a date to be arranged this month. Again contact Father Peter on 01226 717561 for further details.

Wood carving

: There are still places available for the wood carving course in Brierley, which runs on a Tuesday evening from 7pm till 9pm. For further details contact John Nyland at the Brierley Grimethorpe Shafton Community Partnership on 01226 718282

Children's Centre

: Funding is still available for free sessions for two year olds at the Milefield Children's centre, which caters for children from nought to five. The centre welcomes children from the Brierley, Grimethorpe and Shafton areas. For further details contact Helen Cook on 01226 715127.

Dinner outing

: On Wednesday, Linda Milburn the warden at Grange House will escort a party of 36 tenants and guests to dinner at the Burntwood Court Hotel. Entertainment will also be provided. The bus will leave Grange House at 11.30am.

Back to LOCAL NEWS STORIES index page
Spiritualist Church: There will be healing in the Sanctuary tonight (Friday) from 6pm to 6.45pm followed by an open circle from 7pm till 8pm. Gavin Muray from Bentley will take the Sunday evening service at 6pm till 7.15pm. Refreshments will be served afterwards.

Brierley Cubs FC

: All three teams kick of the season on Sunday in the Millennium League. The under 10s will play at home in the Welfare park to Dale Tavern the kick of being at 9.45am. This match will be followed at 11am with the under 7s playing South Kirby. The under 9s will play away to Darfield Dynamos kicking of at 10am. Last Saturday. The under 9s competed in a tournament at Minsthorpe and played quite well. Ryan Smith, McCauley Haigh and Tylor Leese all scored for Brierley.

Brierley Cubs FC

: All three teams kick of the season on Sunday in the Millennium League.

Methodist Church

: The service on Sunday morning at 10.15 will be Songs of Praise. The Rev Terry Keen will take the evening service at 6pm. The welcoming stewards will be Joan in the morning and Richard in the evening. Phyllis will provide the flowers. This weeks cleaning stewards are Margaret and Jean.

Community Workshop

: A community workshop for woodworking crafts is available in Brierley on Monday, Tuesday, Thursday and Friday from 10am till 12 and from 2 till 4. The workshop is available free for anyone to use. For further information contact John Nyland at the Brierley Grimethorpe Shafton Community Partnership on 01226 718282.

Quiz: There will be a general knowledge quiz at the Three Horse Shoes on Thursday at 9.30pm and a music quiz on Sunday starting at 8pm.