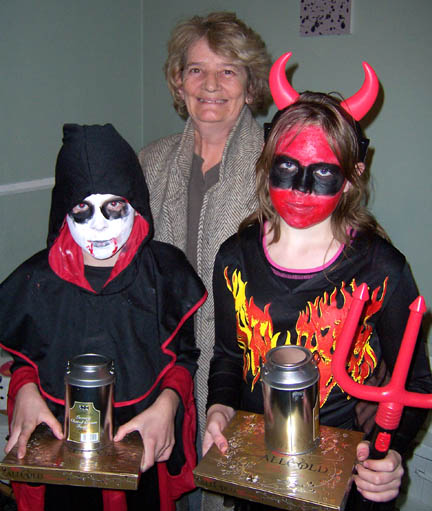 Town Councillor Sylvia Nixon presents Brendon King and Maderson Briscoe with their fancy dress prizes

Tickled Pink

:

At a recent Halloween garden party held at the home of Katrina Hare at 1 Hillside Crescent, £83 was raised for the Asda stores Barnsley "Tickled Pink" campaign which is in aid of research into women's breast cancer. The events have been organised by Katrina, Michelle King and Kaeran Vaines. A children's fancy dress competition also took place, which Town councillor Sylvia Nixon who stepped in at the last minute for Councillor Alex Vodden judged. The winner of the boy's fancy dress was 10 year old Brendon King and 13 year old Maderson Briscoe won the girls prize. All the entrants received a gift. Brendon, along with his sister Jaymie aged 13 and Alex Hurd also 13, also did an escorted sponsored walk from Hemsworth to Brierley and raised a further £102. The girls campaign will finish of on Friday with an auction in the Three Horse Shoes starting at 8.30pm. Anyone who wishes to donate any items to auction can bring them on the night or email Gary. The proceeds from all three events will be presented to Sue Hall from Asda stores Barnsley after the auction. There will also be a prize for the best-dressed person in a pink outfit on this night.

Ladies Recreation

:

There will be ladies recreation evening every Tuesday in the Methodist Church Hall at 7.30pm.

St Paul's Church: The Sunday Mass will be at 9.30am. Daily Mass will be taken on Monday at 10am and Friday at 3pm. Father Peter Needham will conduct the services. Marriage or Baptism enquires to be made to Father Peter Needham at St Luke's Church Grimethorpe on Friday between 6.30 and 7.15pm

Methodist Church

:

The Reverend Terry Keen will take the Sunday morning service at 10.15am while in the evening at 6 there will be a circuit service at Staincross Methodist Church. The welcoming steward this week will be Joan. Adele will provide flowers. Will anyone who has a collection box, or a donation for N.C.H please hand them in to Elizabeth as soon as possible.

Pop In:

The next pop in club will be held on Thursday 16 November in the Methodist Church Hall from 9.15 to 11.15am where everyone is invited to pop in for a cup of coffee or tea and biscuits. Proceed for the Church fund.
Remembrance Sunday Parade

: On 12 November after a short Remembrance service in the Methodist Church taken by Edwin Hambleton, members of the Boys Brigade will parade to St Paul's church to join the British Legions Remembrance Sunday service at approximately 10.50am. The two minutes silence will be at 11am.

Women's Fellowship

:

The ladies meet every Monday at 2pm in the Methodist Church Hall.

Bonfire: This years Town council Bonfire display will take place on Saturday night in the Dell.

THS Quiz

:

There is a general knowledge quiz at the Three Horse Shoes every Thursday at 9.30pm and music quiz on Sunday starting at 8pm. Last week, Father Peter Needham won the Thursday night quiz with 17 out of 20 correct. Ged won the nearest too question and a few beers while Bodgit and scarper won the bottle of wine.

Spiritualist Church

:

There will be a healing in the sanctuary on Friday from 6 till 6.45pm followed by a demonstration of mediumship taken by Janet Hart and Kim Watkins from Brierley. Ann Sharpe and Joanne Pollard from Pontefract will take the Sunday evening service at 6pm till 7.15pm. Refreshments will be served afterwards.

Line Dancing

:

Line dancing will take place in the Methodist Church Hall on Monday and Friday starting at 7.30pm.

Boys Brigade

:

Both the Junior Boys and Company Section meet on a Wednesday night in the Methodist Church Hall. The 7 to 11 year olds meeting will take place from 6.30pm till 8pm and the older boys will meet from 7pm till 9. Edwin and Elizabeth Hambleton lead the boys.

Social club

: Colin Priest won the quiz, which is held every Monday starting at 8.30pm.

Audience with the Fox sisters

:

There are still a number of tickets left for the audience with the Fox sisters at the Spiritualist Church on Wednesday 29th November starting at 7.30pm till 9.30pm. The event will include a talk on the start of modern spiritualism, clairvoyance, trance, healing demonstration and lots more. Tickets, which are £3, are available from the church.

Annual Enrolment

: Members of the Boys Brigade are asked to attend the Parade service on Sunday at 10.05 where the annual enrolment service will also take place. All Brigade members will receive their membership cards and a number of boys will receive certificates and badges.

Autumn Fayre

:

Mr and Mrs R Watson will open the Autumn Fayre at the Methodist Church on Saturday at 3pm.

Brierley Cubs FC

:

The under 9s continued their unbeaten run to six matches when they beat Worsborough Common 5-2 away in the Sunday Millennium league. Goal scorers for Brierley were Ryan Smith, Jason Dench, McCauley Haigh and Tyler Leese who scored twice and who was also the man of the match. On Sunday they will play at home to Darfield Dynamo's. Players are asked to meet at 10.30am for an 11am kick of.

Evening of Clairvoyance

:

At a recent evening of clairvoyance with Dina Birks from Wath at the Spiritualist Church, £155 was raised for the PDSA.

Back to LOCAL NEWS STORIES index page