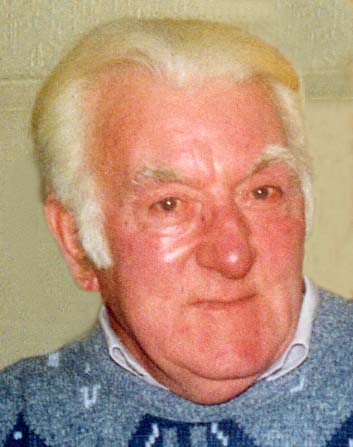 George Roland Brady

The funeral will take place on Monday 23rd October at 11.30am at the Methodist Church, of George Roland Brady of Grange Road Brierley. Before he became ill, George who was better known as Ron was a popular member of Brierley Ex Servicemen's club where he also spent a number of years as a committee man. Ron leaves two daughters Ann and Ruth, grandchildren and great grandchildren. The Rev Sylvia Corney will conduct the service followed by cremation at Ardsley. Funeral arrangements by Newsome's of Shafton

______________

Evening of Clairvoyance

: There will be an evening of clairvoyance with Dina Birks from Wath at the Spiritualist Church this Wednesday. Tickets, which are £3, are available from the church or you may pay on the door.

THS Quiz: There is a general knowledge quiz at the Three Horse Shoes every Thursday at 9.30pm and music quiz on Sunday starting at 8pm. Last Thursday Eric Wright won the quiz with 18 out of 20 correct. Jim Dunn won the nearest too question and a few beers. The Beer Monsters won the bottle of wine.

Ladies Recreation

: There will be ladies recreation evening on Tuesday in the Methodist Church Hall at 7.30pm.

Christmas Trip

: Linda Milburn the warden at Grange Hose is arranging a Christmas visit to Barden Mills, which is near Burnley for the 4 December. Christmas dinner can also be booked but she needs names as soon as possible. The trip will leave at 10.30am and return at 5pm. Tickets will be £6 but no children are allowed.

Social club

: Michelle Rowney won this weeks quiz, which is held every Monday starting at 8.30pm.
Town Council

: The next meeting of the Town Council will take place in the council chambers at the welfare park Grimethorpe next Wednesday at 8pm. This years Bonfire display will take place in the Dell on the 4 November. The new Town council clerk will be Jan Cooper who can be contacted on 01226 716700

Spiritualist Church

: There will be a healing in the sanctuary tonight (Friday) from 6 till 6.45pm followed by an open circle at 7 till 8 pm. Raymond Foulkes from Doncaster will take the Sunday evening service at 6pm till 7.15pm. Refreshments will be served afterwards.

Councillorís surgery

: There will be a councillorís surgery in Grange House tonight (Friday) from 5 to 6pm. Councillors Vodden, Whittaker and Higginbottom will be in attendance.

Line Dancing

:Line dancing will take place in the Methodist Church Hall on Monday and Friday starting at 7.30pm.

Boys Brigade

: Both the Junior Boys and Company Section meet on a Wednesday night in the Methodist Church Hall. The 7 to 11 year olds meeting will take place from 6.30pm till 8pm and the older boys will meet from 7pm till 9. Edwin and Elizabeth Hambleton lead the boys.

St Paulís Church: The Sunday Mass will be at 9.30am. Daily Mass will be taken on Monday at 10am and Friday at 3pm. Father Peter Needham will conduct the services. Marriage or Baptism enquires to be made to Father Peter Needham at St Lukeís Church Grimethorpe on Friday between 6.30 and 7.15pm. Baptism and Confirmation classes have started on a Wednesday at St Lukeís. Again contact Father Peter on 01226 717561 for further details.

Grange House

: At the Grange House social evening on Monday Pam Fewster won the raffle. Doreen Barton won on Friday while Vira Foster claimed Thursdayís prize.

Pop In

: The next pop in club will be held on Thursday in the Methodist Church Hall where everyone is invited to pop in for a cup of coffee or tea and biscuits.

Drop In

: A stop smoking drop in on a one to one basis is available to all residents from Brierley Grimethorpe and Shafton at Milefield childrenís centre on Wednesday from 2.30 till 3.30.

Womenís Fellowship

: The ladies meet every Monday at 2pm in the Methodist Church Hall.

Back to LOCAL NEWS STORIES index page