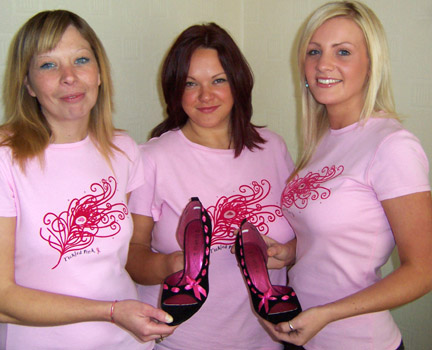 The girls have purchased Tickled Pink tee shirts and shoes which they will wear on the night. left to right Michelle, Karina and Kaeran.
_____________________
Auction night another great success
It was another successful auction night in Brierley Club on Saturday with nearly £1,400 being raised for Multiple Sclerosis. Local coal merchant and scrap dealer Barry Bailey set of the fundraising event with a £200 donation. He also successfully bidded £70 for a Barnsley FC signed shirt. Paul Round was highly delighted with his bid of £170 which guaranteed him a signed England shirt. A framed picture of 20 old Brierley photographs donated by this web site fetched £45 and a House of Commons bottle of whisky signed by the Prime Minister Tony Blair brought a further £30. Paul Vodden was successful in his bid of £30 for the House of Commons whisky signed by the Prime Minister Tony Blair. Local councillor Arthur Whitaker telephone Chris Sykes the organiser while he was auctioneering to tell him that the Buffs at Grimethorpe had also raised £94.
The photograph below shows Jeff Ennis MP handing over the signed England shirt to Paul Round who bidded £170 for it.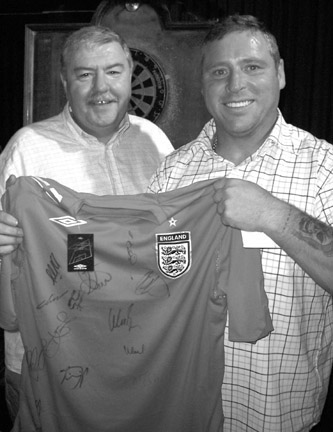 The money raised on the night has taken Chris's total to nearly £11,400 raised for local charities over the last 9 years. Last year Jeff Ennis MP presented Chris with a certificate of achievement award for raising over £10,000.

______________________

St Paul's Church: On Monday at 7.30pm there will be an evening with Ian Clayton in St Paul's starting and the churches Annual Harvest Festival will be held in Brierley Social club on Tuesday when a Miss Brierley and Grimethorpe competition will take place. Entry to the club is free but the competition entry is £2.The Sunday Mass will be at 9.30am. Daily Mass will be taken on Monday at 10am and Friday at 3pm. Father Peter Needham will conduct the services. Marriage or Baptism enquires to be made to Father Peter Needham at St Luke's Church Grimethorpe on Friday between 6.30 and 7.15pm. Baptism and Confirmation classes have started on a Wednesday at St Luke's. Again contact Father Peter on 01226 717561 for further details.

Spiritualist Church

: There will be a healing in the sanctuary tonight (Friday) from 6 till 6.45pm followed by an open circle at 7pm till 8. Mary McCabe from Doncaster will take the Sunday evening service at 6pm till 7.15pm. Refreshments will be served afterwards.

Evening of Clairvoyance

: There will be an evening of clairvoyance with Dina Birks from Wath at the Spiritualist Church on Wednesday 25 October. Tickets, which are £3, are available from the church or you may pay on the door.

Back to LOCAL NEWS STORIES index page
Tickled Pink

On Halloween night three Brierley girls Michelle Rowney, Karina Hare (both from the Hillside estate) and Asda worker Kaeran Vaines (Norwood Drive) intend to raise money for research into Breast cancer through Asda stores Tickled Pink Campaign.

In the garden of Karina at 1 Hillside Crescent Brierley. The girls hope to hold a tombola stall, raffle, sell pie and peas, burgers, hot dogs etc. They also hope to get the kids from the estate involved by means of a fancy dress competition. Brendon King aged 10 his sister Jaymie King aged 13 and Alex Hurd also 13, hope to do an escorted sponsored walk from Hemsworth to Brierley on Saturday to support the event. The Halloween night will start at 3.30pm with Councillor Alex Vodden judging the fancy dress competition at 6.30pm. All children who enter the fancy dress will receive a prize. Over the weekend, the girls also hope to visit pubs and clubs in the area with donation buckets.

To cap it all off, on Friday 3rd November starting at 8.30pm, the girls will hold an auction in the Three Horse Shoes with Gary (Gazza) Hotchins doing the auctioneering with the proceeds from both events being added together and being presented to Sue Hall from Asda stores Barnsley on the night. There will also be a prize for the best-dressed person in a pink outfit on this night. Karina stated "We thought we would do something to help other women and with Kaeran working at Asda she thought of their "Tickled Pink" campaign which we all thought was a good idea in raising money for research into breast cancer and also to raise awareness of this illness. We are grateful for the help and support we have received so far and would ask anyone with items that could be used in the auction to ring me on 07949 403764" or to email Gary.

______________________

Photograph below shows from left to right: Chris Sykes (organiser) holding the signed Barnsley shirt, Jeff Ennis MP with a House of Commons bottle of whisky signed by the Prime Minister Tony Blair and and Len Collett Chairman of the Barnsley Branch of the Multiple Sclerosis Society holding the signed England shirt.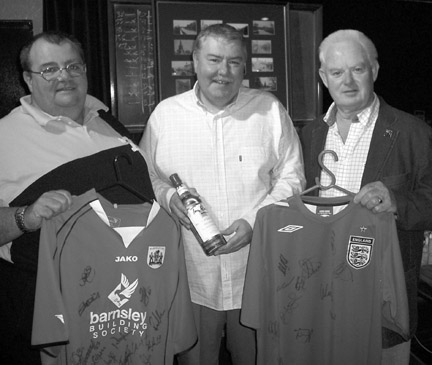 ______________________

Brierley Cubs FC

: It was good news all round for Brierley this week with all three teams gaining victories over their opponents. The under 9s played Dearne and District at home in a cup match and at the end of a tremendous display, came out 5-1 winners. Brierley goal scorers were, Ryan Haywood, Callum Shaw, Tyler Leese, McCauley Haigh and Jack Mansell who was also man of the match. They will play away to Mosborough in the league on Sunday kick of time to be arranged. In a match that was dominated by the under 10s, Brierley beat Cudworth Tykes 2-1 away from home with Marty Farrar scoring both goals. This was the first time Cudworth have been beaten this season. On Sunday they play in the TSB cup away to Wooley meeting at the welfare park at 12.15 for a 1pm kick of. The under 7s had a fantastic game at home in the Millennium League with Morgan Armit scoring five goals in a 10-0 demolition of Hemsworth B. The other scorers for Brierley were Keton Smart who was also man of the match, Lewis Lettin-Hall, Aden Smith, Linden Clarke and Hemsworth scoring an own goal. On Saturday they will play away to Hoyland kicking of at 1pm.

Women's Fellowship: The ladies meet every Monday at 2pm in the Methodist Church Hall. The speaker at last weeks Fellowship was Mr D Haynes.

Ladies Recreation

: There will be ladies recreation evening on Tuesday in the Methodist Church Hall at 7.30pm.

THS Quiz: There is a general knowledge quiz at the Three Horse Shoes every Thursday at 9.30pm and music quiz on Sunday starting at 8pm. Last Thursday Mick Pointon won the quiz with 18 out of 20 and he also won the bottle of wine. Mark Pearson guessed the nearest too question.