Brierley Cubs FC:

To prepare for next seasons Millennium League, Brierley Cubs under Tens 7 a side played Upton United at home on Tuesday and won 6-1. Brierley goal scorers were Marty Farrar and Kai Hancock who both scored twice and Danny Patrick and Brad Taylor. The team will play in a tournament at Hemsworth School on Saturday morning starting at . They will also play in a further friendly on Tuesday playing Hemsworth Miners at home kicking of at 6pm.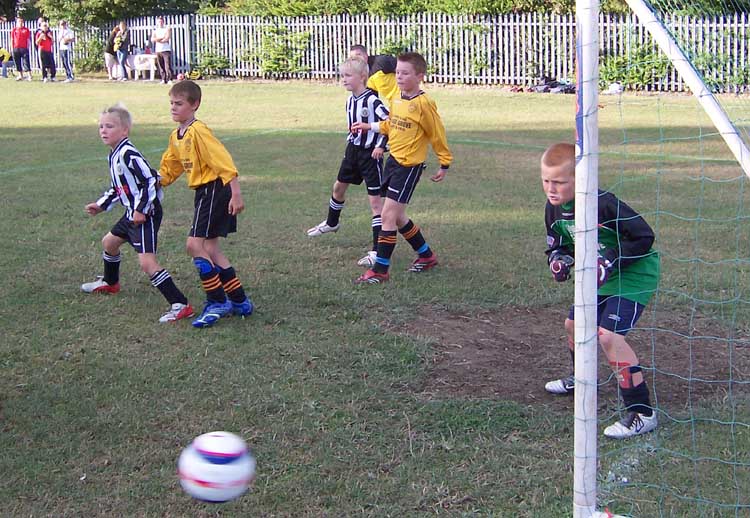 St Paulís Church:

The Sunday Mass will be at . Daily Mass will be taken on Monday at and Friday at . The services will be conducted by Fr. Peter Needham. Marriage or Baptism enquires to be made to Fr. Peter at St Lukeís Church Grimethorpe on Friday between 6.30 and .
Social Club

: At the Social club quiz night on Monday night, Malcolm Evans won the first prize of a gallon of beer.

Line Dancing: There will be Line Dancing in the Methodist Church hall tonight Friday and Monday from till 9. Everyone welcome.

Evening of Clairvoyance

:There will be an evening of Clairvoyance at the Spiritualist Church on Wednesday 16 August at 7pm. Kath Knaggs will lead the service and tickets priced £2 are available from the church.

Quiz

: There will be a quiz night at the Three Horse Shoes on Thursday at and a music quiz on Sunday starting at .

Methodist Church

: Mr S Fielden will lead a family service on Sunday at while in the evening there will be an Area Service at Cudworth starting at 6. Welcoming steward this week is Edwin Hambleton. The cleaning stewards will be Elizabeth and Ann. Ivy Grindrod will provide the flowers. Except for line dancing, all events at the Church have been cancelled for August.

Spiritualist Church

: There will be healing in the Sanctuary on Friday from to followed by a demonstration of mediumship which will be taken by Helen Symmons from Leeds . On Sunday, Alan and Hazel Taylor from Doncaster will take the service at .

Grange House

: At the Grange House social evening on Thursday, Rita Sayers won the raffle while Sue Noble won the prize on Friday. Ann Whitehead won on Monday.