Jubilee celebrations go ahead despite weather
It was congratulation all round on Monday both to the residents of Brierley and the organisers from the Brierley Village Partnership's 'Special Events 'group. An excellent turnout turned a miserable day into one that was enjoyed by everyone and I am sure that it will be remembered for years to come. A special mention must also go to the Hillside Tara and kids for their excellent efforts in providing the dragon and caterpillar for the parade, and also for a first class turnout in the fancy dress. The day started of by the crowning of the jubilee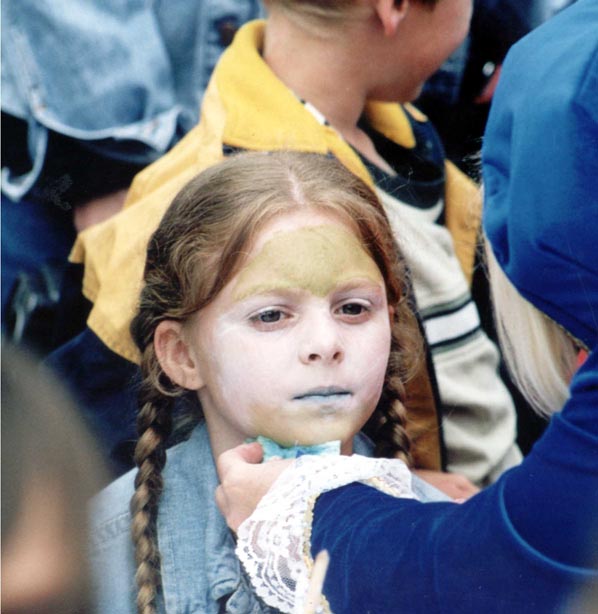 Queen, Leanne Ashton by MP Jeff Ennis. Majorettes and others including a vintage bus joined a parade that included a jazz band and circus acts, free face painting by Shelley Exley and bouncy castles for the kids followed by a disco disco in the evening made it a day to remember. Winners of the fancy dress were – Danielle Newsome, Audrey Marsh, Shelley Exley and Lindsay McGrath. The Queens attendants were, Melissa Woodward, Georgia Baker, Chloe Thompson, Joanne Lomas, Leah Pearson and Amy Hambleton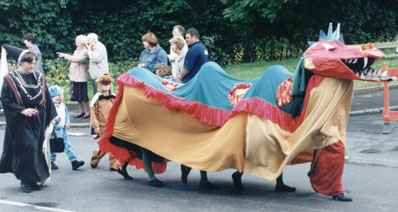 Action Team for Jobs coming to Brierley
Photograph shows Members of the Brierley History Society Management Committee Councillor Alex Vodden, Chris Sykes, Paula Hutley and Joan Gomersall being shown how the Action Team for Jobs works by Fezana, Paul and Julie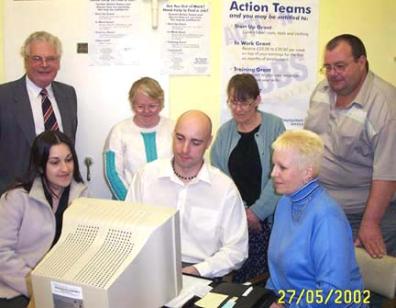 In partnership with Brierley History Society," Action Team for Jobs" have set up a 'drop in' job search facility in the History Society rooms, rear of Brierley Hall. Action Team for Jobs has been set up to help jobless people into work. They offer a series of non-repayable grants to assist people with the initial financial costs of returning to work. These include help with travel costs, work clothes or tools, £750 to pay your employer towards your training and a weekly grant to top up your wages for the first six months of employment. Since October 2001 they have helped over 300 people find sustainable employment. As part of their remit to serve the local community and reach as many people as possible it has been arranged for them to attend the Brierley History Society room every Wednesday morning between 10am & 12.30pm. The friendly, helpful staff will be more than happy to discuss your individual job search needs. " So come along for a chat and a cuppa." The team have an office at 254 Barnsley Rd, Cudworth (next to HSBC bank) and people are also welcome to call in there or telephone Julie, Paul or Fezana on 01226 718438.
"The Brierley History Society Management team are proud to help Action Team for Jobs in providing Brierley and Grimethorpe people get help in obtaining the opportunities for real jobs both professionally and financially. The Society under the leadership and guidance of its founder Gary Hotchins will continue to develop local initiatives and promote the Brierley community," said one of the management team members Councillor Alex Vodden
Social Club
The winner of the raffle on Friday was Kevin Elvidge who won a mixed grill. The tote is unclaimed and the winning numbers are 3 and 5. The artiste last night was Karen Mycroft while Jenny Marie will provide the entertainment on Sunday. The winners of the gallon of beer draw were Albert Taylor and Steve Bowen. There will be bingo on Tuesday and Thursday starting at 8.30pm
Regular events and meetings:
Garden and Allotment Society;
Meet the first Wednesday in every month in the Three Horse Shoes at 9pm
Brierley Labour Party;
Meet the last Sunday in every month in Brierley Social club at 10am.
Brierley Village (Community) Partnership;
Meet every second Tuesday in the month in their offices at Brierley Hall at 7pm
Quiz Night
Every Thursday in the three Horse Shoes starting at 9pm
Brierley Village club.
Artistes Friday and Sunday. Bingo with cash prizes Tuesday and Thursday
Grange House
Mrs Hardwick won the raffle at the social evening on Friday night while Mrs Gash won on Thursday. Jock Inks won Monday's prize. Forthcoming events include the Grimethorpe and District Brass band that will play for the residents on Tuesday June 11 at 7pm to celebrate the Queens Golden Jubilee
Open Day
There will be an open day at the Spiritualist Church on Saturday July 6 from 11am till 4pm. Events will include, meditation, private readings, cake, handicraft and rock and crystal stalls, refreshments and lots more. Everyone is welcome
THS Quiz
Ian Moss and Mick Pointen were the winners of the quiz in the Three Horse Shoes on Thursday night. Hectors Eleven won the nearest too. The event is held every week and starts at 9pm
Coppins
The residents enjoyed a special lunch and a buffet tea on Monday to help celebrate the Queens Golden Jubilee
Mrs May Candlin (Formerly May Lomas)
The funeral service took place at Grimethorpe St Luke's Church on Wednesday of Mrs May Candlin formerly of Grange Road Brierley, who died in the Northern General Hospital Sheffield on May 28 aged 77. The service, which was taken by the Rev Peter Needham, was followed by committal at Ardsley. Funeral arrangements by Newsome's of Shafton
Spiritualist
On Friday, there will be healing in the sanctuary by trained volunteers at 6pm followed at 7pm by an open circle, which is a meeting of hymns, prayers and meditation. This Sunday will be a service of hymns, prayers and clairvoyance and will be taken by Ken Commons from Cudworth at 6pm. Next Sunday the service will be taken by Ann Stenton from Rotherham. To ease traffic congestion on Church Street visitors are asked to use the Brierley Hall car park
Football
Training for both the Lions and the Cubs will resume on Tuesday at 5.45pm in the welfare park
Jubilee Photographs
The Brierley Historic Photographic Society have arranged for a selection of Jubilee celebrations photographs to be on display in the post office from Monday till Friday. The society will also be selling raffle tickets from 9am till 12 noon on these days
Clairvoyance Special
There will be an evening of clairvoyance at the Spiritualist church on Wednesday at 7.30pm with Veronica Sheares from Garforth. Tickets are £2 and are available from the church
Brierley Village (Community) Partnership
There will be a meeting of the Partnership Management committee in Brierley Hall on Tuesday at 7pm
Methodist Church
The Rev W Walbank will take the Sunday morning family service at 10.15am and the evening service at 6pm will be taken by the Rev D Halstead
Local news stories index page