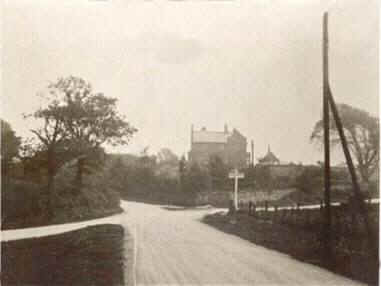 One of the earliest references to the Hoyland family living in the Barnsley area is that of one John Hoyland of Wolsley Croft, Hemingfield, in 1627. Following the branches of the family tree, the first connection we have to Brierley appears to be another John Hoyland listed as a resident on the Brierley Manor Court Roll for 1665. He may have been the father of John Hoyland who died at Brierley in February 1732.
Photograph on the right shows Brierley Gap before the road was extended - date unknown
There were quite a few Hoylands in the district from this date and further information on the family can be seen in Richard Watson - Mary Harrison's book Brereley a history of Brierley. Indeed, there is a record of a Miss Sarah Hoyland born in 1830 who resided at Lindley House, who married, in December 1855, the Rev Godfrey Pigott Cordeux, who later became the first curate of St Paul's Church. The corner which Lindley House stands on still carries the name Cordeux's corner.
Another John Hoyland, referred to in the archives as the 'elder', must have purchased land at Brierley gap extending to five acres sometime during his life, for in his will dated 1871, he mentions the possession of this land and as executor of his estate appoints his son, the Rev. John Hoyland who was vicar of Felkirk at the time.
History
In 1903, the Rev. John Hoyland conveyed to his son, Clement Edward Hoyland of Cumberland, a piece of land at Brierley Gap, which measured five acres. He erected property there in the same year and it became known as "Brierley Gap", better known today as the Robin Hood. Their stay there however was short lived, and on 16 March 1911, just eight years after having the property built, it was conveyed by the Hoylands to the Hemsworth Rural District Council.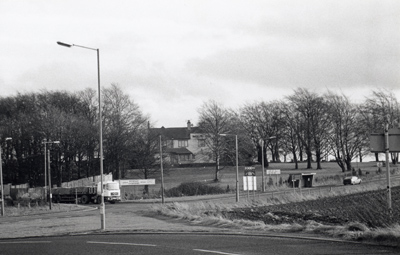 Brierley Gap taken by Baipip in 2000. Now the Robin Hood.

Part of the old road can be seen as a path in the middle of the photograph.

The Rev. John Hoyland died in 1910, and after his death, his widow Mary Ann Hoyland who was residing at Brierley Hall at the time, went to live in Harrogate (see history Brierley Hall), these being the parents of Clement Edward Hoyland, it is possible (and purely speculation on my part), that on the sale of the property at Brierley Gap, Clement followed his mother to live in Harrogate (see update below) as nothing more was heard of him, or indeed the Hoyland family.

Hemsworth Rural District Council used the property as a home for the nurses working at the fever hospital nearby (now Burntwood sports centre), and also as a sanatorium. In 1964, they conveyed the property to Brierley Gap Holdings Limited with Mr W Child as chairman of the Board of Directors. It was converted into a gambling casino ideally named "The Five Acres Country Club", and some time in the seventies, it became the first night club Brierley had ever hosted. It was aptly named "Eight Miles Out", the reason being that it was approximately eight miles from Barnsley, Wakefield and Pontefract.

The property still stands proud today and local lad Roger Butterworth, now owns the property which is known today as "The Robin Hood".

More detailed information on the Hoyland family can be seen in Brereley a history of Brierley.. Richard Watson and Mary Harrison 1975/76.

Although the book sold over 2,000 copies and is no longer available, Richard has an updated version on floppy disk, or you can read the full book on his web - site

Update March 2009

This email was received at the web site which confirms my thoughts that Clement followed his mother to live in the Harrogate area although it does seem to be Evington near York.

My name is Shelly and I live in Evington nr York. I am building a website about the history of the village and I would like to confirm that Clement E Hoyland lived here in 1928. He bought a property called Brinkworth Hall, and donated the organ to the church. I have a copy of land search for 31st July 1928 for Clement. If you would like a copy please email me and I will send you it. Would it be possible to use some of your info on the Hoylands on my site?, if not I will place a link to your site

Local History archives index